In 2020, China was the only major economy to produce economic growth. It's not surprising, then, that it was also the only major national market to see an increase in total media ad spending. Girded by this economic strength, China's digital ad market hardly missed a beat, growing by 16.2% year over year (YoY) in 2020. We forecast that digital ad spending will keep right on climbing in 2021, rising by 17.5% YoY to reach RMB 728.74 billion ($105.58 billion).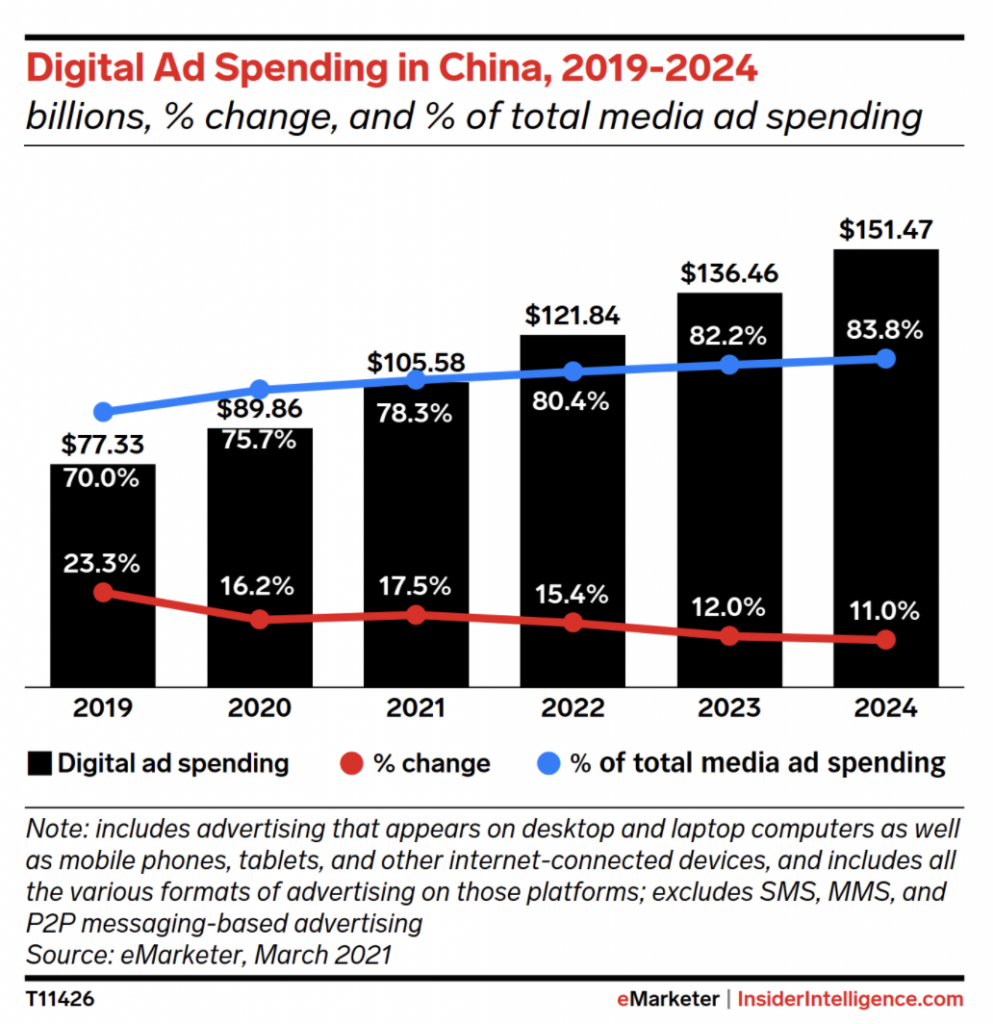 Last year, spending on advertising overall—including all nondigital formats—increased by just 7.4% YoY to RMB 819.07 billion ($118.67 billion). This was a substantial deceleration relative to 2019's 15.2% growth, but one that nonetheless surpassed many dire mid-pandemic projections, ours included. In 2021, driven by China's macroeconomic reacceleration, total media ad spending will bounce back with 13.6% YoY growth, a rate closer to the pre-pandemic norm for China. Total media ad outlays should reach RMB 930.55 billion ($134.82 billion) in 2021.
This rebound will manifest mainly via a return to stability for China's TV and out-of-home (OOH) ad spending, and via a reacceleration in digital ad spending.
Traditional media ad spending had a very challenging 2020, as abnormal socioeconomic conditions, driven by the pandemic, changed consumer behavior to the detriment of TV, radio, newspaper, magazine, and OOH advertising. Traditional ad spending contracted by 13.1% YoY last year, and although it will rebound slightly in 2021—to a modest 1.5% annual increase—we forecast it will never again reach its pre-pandemic highs. China's ad industry has long been digital-centric, and the events of 2020 have only exacerbated this trend. Despite many projections that China's GDP will expand by upward of 8% in 2021, we forecast that OOH will be the only traditional media format to rebound in a meaningful way (up 6.5%).
Thanks to the contraction in traditional media, digital accounted for more than three-quarters of all ad spending in China last year—the first time that threshold has been breached anywhere in the world other than Norway. This year, digital's share will tick up again, to 78.3%.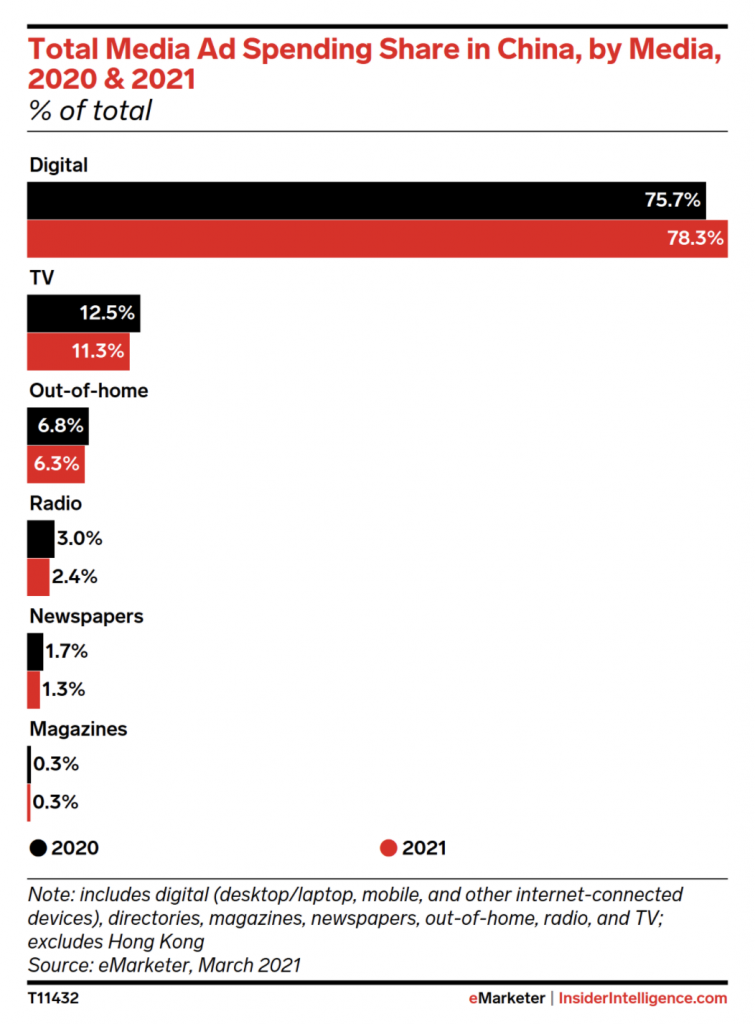 It has become conventional wisdom that in China, digital equals mobile, and mobile equals digital—and this has never been more true.
In 2021, digital advertising will bring in RMB 728.74 billion ($105.58 billion), of which 92.0% will go toward ads on mobile devices. This will be the first time that mobile's share of digital crosses the 90% threshold, and although there would seem to be limited room for mobile advertising to further its dominance, we expect mobile to eat more and more of the pie through the end of our forecast period in 2024, when it will garner more than 95% of all digital ad spending.
Given the benefit of a deeply protectionist and isolated digital media environment, the domestic megaplayers in ecommerce, search, social media, news, entertainment, and digital video have been able to capture, essentially, the entirety of China's ad market. As digital ad spending grows by leaps and bounds, more and more of China's digital ad publishers are entering global company rankings by overall ad revenues.
Ecommerce and social media players in China generated unexpectedly strong digital ad revenues in 2020, for many of the same reasons that their peers in the US did: People spent more time at home, more time online, and more money on food and consumer products; they in turn spent less time in physical stores, less money at restaurants, and less time and money on travel. Although consumer demand in China did not spike as it did in many Western economies amid the pandemic, it did not collapse as much as feared either, which helped ecommerce platforms and other digital ad publishers outperform revenue expectations.
For instance, in mid-2020, we estimated that net digital ad revenues for JD.com would grow by 14.1% YoY that year. In our latest forecast, however, we updated that growth to 26.6%. Tencent was able to leverage the extra time that consumers spent using WeChat and playing its video games to increase its take by 17.7% YoY in 2020. Alibaba, too, outperformed our mid-2020 expectations by several percentage points. Of the major players, only Baidu—overly reliant on search and already struggling before the pandemic—saw a net contraction in digital ad revenues last year.
In 2021, nearly every digital ad publisher in China will increase revenues faster than it did last year, and delivery giant Meituan will lead the pack, with 35.8% growth YoY.
The big story in China, as elsewhere, is the overwhelming popularity of short-form video platforms, and ByteDance properties in particular. Just as TikTok is hoovering up digital ad dollars (and share) across the rest of the world, its sister app Douyin is staking its claim within China. Douyin's local competitor, Kuaishou, is also rapidly becoming a major digital ad publisher, and even ByteDance's news aggregator, Toutiao, is likely stealing meaningful ad spending share from traditional media.
We are not yet able to break out digital ad spending forecasts for ByteDance properties, nor for Kuaishou. We hope to be able to produce these estimates in our next forecast, as Kuaishou recently launched its IPO in Hong Kong, and Douyin likely will soon. In the meantime, we can get a sense of their scale from our latest forecast, by looking at what digital ad spending is left over once the other major players are accounted for.
The traditional "BAT" goliaths—Baidu, Alibaba, and Tencent—accounted for 52.3% of the digital ad market in China last year, and JD.com took another 5.7%. Beyond those four, the only other major player we have estimates for is Meituan, which made up only a 3.0% share. That leaves many tens of billions of digital ad dollars unspoken for, and it is highly likely that most of that spending went to Douyin and Kuaishou. In fact, Douyin is likely driving an outsize proportion of China's new digital ad spending.
If we widen our lens to take in the global digital ad revenue market, we see that even without the presence of TikTok, Douyin, and Kuaishou, Chinese companies now dot the list of the world's largest ad publishers. Note that the figures in the chart below are slightly higher than those cited above, because this chart also accounts for the ad revenues Chinese companies generate outside of China.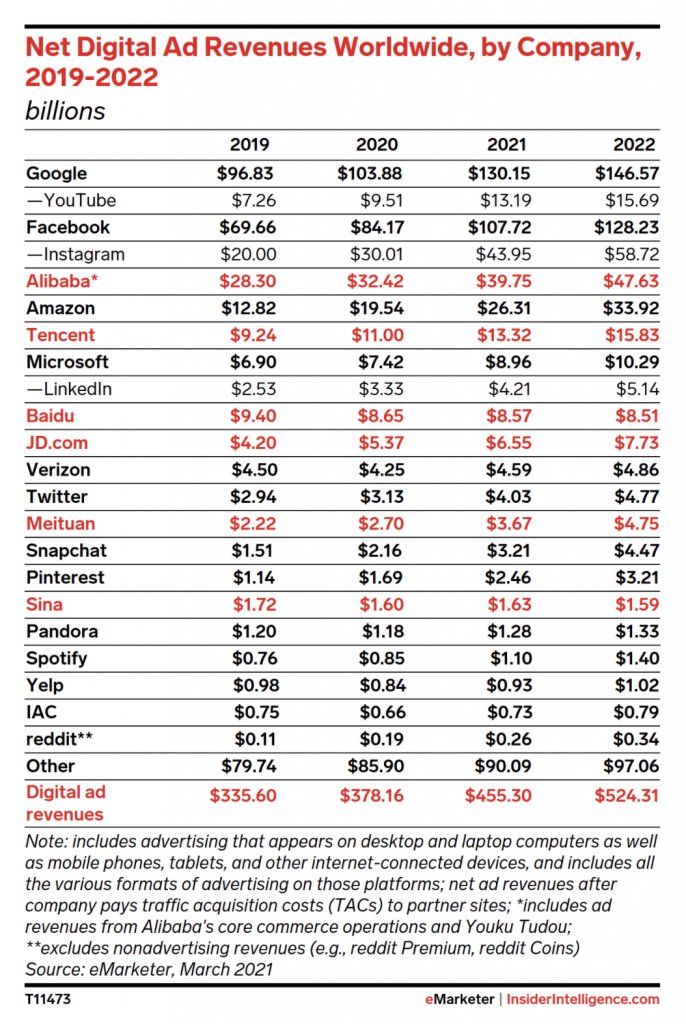 Both ByteDance and Kuaishou would have prominent places in the ranking above if we could break them out, as would TikTok. Consulting firm R3 Worldwide estimated that ByteDance (Douyin and Toutiao) was second only to Alibaba in terms of domestic digital ad revenues as of H1 2019, and Kuaishou's full-year 2020 earnings release suggests its digital ad revenues likely exceeded those of Meituan. We will hopefully know more about them by the next time we update our digital ad spending forecast. (Source: emarketer.com)