Below are two articles discussing this new evolving situation: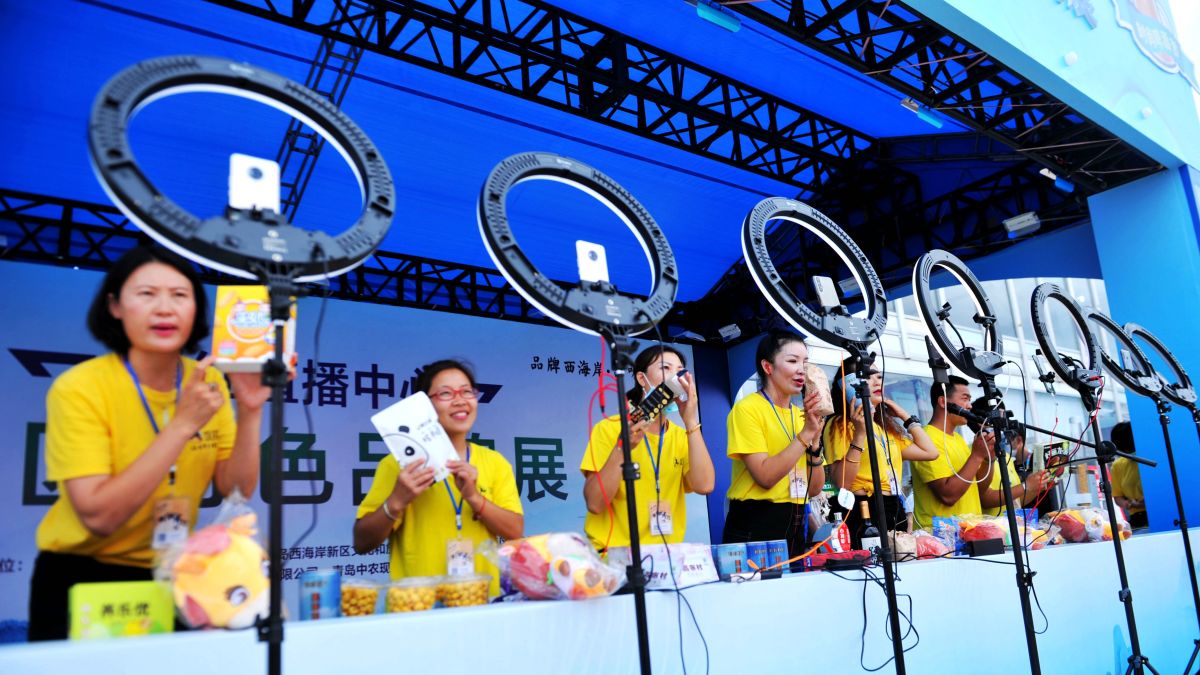 Article One: China's authorities have rolled out guidelines to regulate the country's booming livestreaming marketing industry and set standards for livestreaming e-commerce platforms, operators and hosts.
The new measures, jointly issued by the Cyberspace Administration of China (CAC) and six other government entities, including the Ministry of Commerce, the Ministry of Culture and Tourism and the State Administration for Market Regulation (SAMR), aim to protect the rights and interest of consumers and tackle problems including false advertising and goods of poor quality.
They require livestreamers and operators to be at least 16 years old, ans minors under 16 must obtain the consent of a legal guardian.
Fake claims in adverts and data fraud, such as bogus comments, likes, views and sales figures, will be banned. Livestreaming platforms are also required to handle complaints from consumers in a timely manner and provide evidence when disputes occur.
The authorities also plan to step up oversight of livestreaming platforms, which will be required to establish and improve their supervision mechanisms and privacy measures to enhance information security and protect personal information.
China has been the world's largest online retail market for eight consecutive years. It saw more than 24 million livestreaming marketing activities taken place in 2020, and some online influencers like Li Jiaqi became household names through their online sales.
Livestreaming e-commerce has rapidly become an important marketing method in the internet economy. But its growth has been marked by complaints that some sellers were infringing on consumers' rights and interests to boost their popularity and profits.
China has recently issued a series of regulations to better monitor the livestreaming e-commerce market and crack down on violations by both streamers and platforms.
The SAMR released guidelines to strengthen supervision over the marketing activities of e-commerce platforms last November.
The new measures will take effect on May 25. (Source: ecns.cn)
Article Two: China is taking aim at its flourishing livestream e-commerce market with the introduction of new regulations released Friday from seven government agencies including the nation's top cyberspace watchdog and market regulator.
Why it matters: The new rules are the latest in China's tightening grip on the internet sector. Regulators have in recent months stepped up antitrust regulations on tech firms and halted fintech firm Ant Group's mega dual listing.
Livestreamed e-commerce has become essential to marketing in pandemic-era China. According to China's Ministry of Commerce, more than 4 million e-commerce sessions were livestreamed in the first quarter of 2020.
Major e-commerce and short-video platforms have tried combining the two markets, with Alibaba's Taobao Live, Tencent-backed Kuaishou, and ByteDance's Douyin emerging as leading players in the field.
Details: Central government agencies including the Cyberspace Administration of China, the Ministry of Public Security, and the commerce ministry rolled out on Friday new rules targeting the livestream e-commerce space that will go into effect on May 25.
The regulations require livestream platforms to set up a system to internally rank users by metrics such as views and transactions.
Platforms should also establish risk management systems to guard against suspicious or illegal marketing tactics, taking measures such as pop-up warnings, limiting traffic, and stopping the livestream, according to the new rules.
Platforms must verify livestream the identity of livestream hosts prior to every session. Regulators also called for platforms to take the necessary steps to secure users' personal information.
The rules forbid minors under the age of 16 from hosting livestream e-commerce sessions.
Context: The State Administration for Market Regulation, China's top market watchdog, previously introduced a set of rules governing livestream sales, misleading practices, and user data privacy on March 12 at the annual 315 consumer rights protection gala. These regulations were an important complement to the E-Commerce Law in 2019 as selling via livestream gained popularity.
Taobao Live is one of the largest livestream platforms in terms of merchant size, user base, and sales volume, with an estimated 2019 gross merchandise value (GMV) of between RMB 200 billion and 250 billion ($30.5 billion to $38.5 billion). 
Kuaishou launched a livestream feature in 2017 and reportedly sold an estimated GMV of RMB 35 billion in 2019. Livestream e-commerce accounted for 19% of the company's revenue that year. 
The China Advertising Association (CAA) issued the first livestream e-commerce code of conduct on June 24, detailing rules against false and misleading advertising on livestreams and requiring real-name registration from merchants and individual livestreamers. (Source: technode.com)