As part of HPA-China's "Probiotics Online" China service, the association together with partners IPA and Foodmate hosted a live-streaming event on August 25, 2021 with the following sponsors: Chr Hansen, Dupont, Lallemand, Novozymes and Yili Dairy Group.
The livestreaming event is part of the overall services provided under the Probiotics Online service, which includes:
Probiotic China Summit held each year in Shanghai just prior to the FiAsia China Expo normally held in June.
Probiotics newsletter in both English and Chinese
Probiotics Interviews, where HPA-China team interviews a variety of industry leaders from the probiotics industry. As of August 2021, the association has interviewed leaders from Dupont, Fonterra, Lallemand, Novozymes and Sirio Pharma. Each interview has gained thousands of views on the association's and partner's media channels.
Probiotics live-streaming events like the one below will be scheduled throughout the year.
The association is also building up a living document to catalog and highlight all the various strains available in the international market and make those strains information accessible in Chinese to the Chinese supplement and food industries.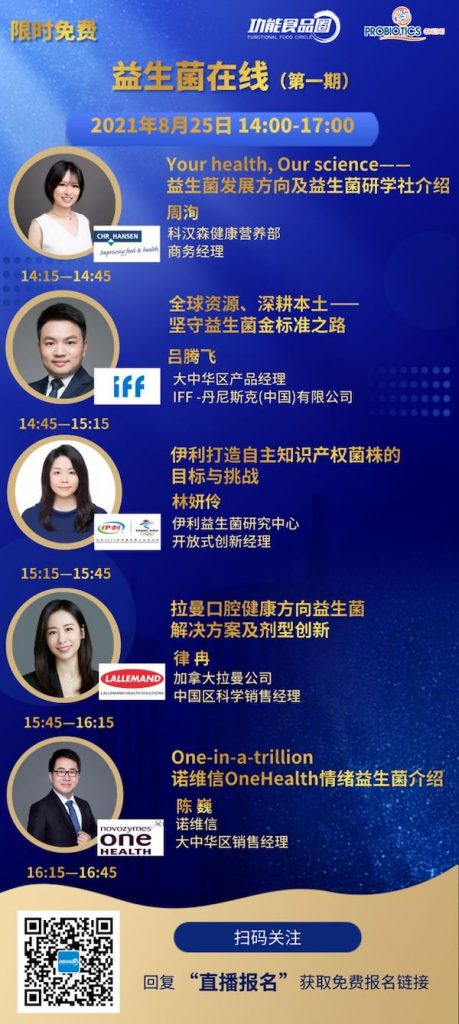 Source: HPA-China