To compete with local brands, international cosmetics brands increasingly work with bloggers and influencers, or key opinion leaders (KOLs), to promote their products in China, according to a recent report compiled by EY-Parthenon (EYP), Ernst & Young's global strategy consulting arm, on China's beauty market.
Against the backdrop of stronger preferences for home-grown brands, international brands must find ways to better engage with China's 260 million Gen-Z consumers, whose wealth is growing faster than their counterparts elsewhere. They are also more willing to spend on their skin.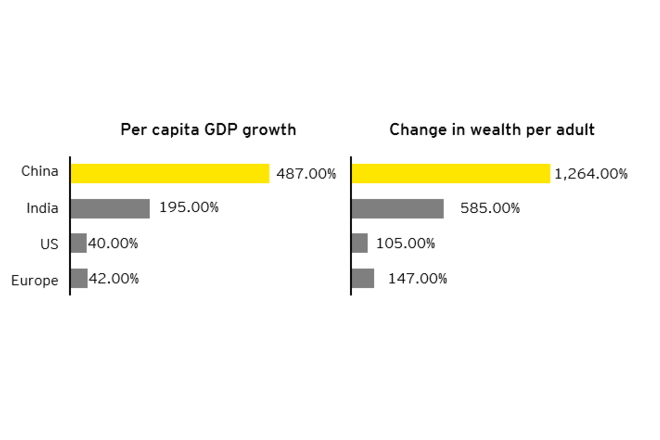 China's per capita GDP and average personal wealth grow faster than its counterparts.
Domestic market players currently account for 56 per cent of China's beauty market, according to the EYP report, citing Tencent's China Cosmetics Insights Report. They include contract or private-label manufacturers that have been established in China for years and leading domestic ODM/OEM manufacturers. As well as a more competitive marketplace, the more stringent regulatory environment has become a driving force for market consolidation. EYP believes that the current landscape is in favour of medium and large-sized contract manufacturers.
Beauty KOLs are gaining more popularity among Gen Z-ers on social media because they find them easier to follow their interests. These KOLs have a huge following on social media and are often influential with their audiences. The rise of e-commerce channels has also increased the speed of product distribution, resulting in a faster-paced, more competitive market.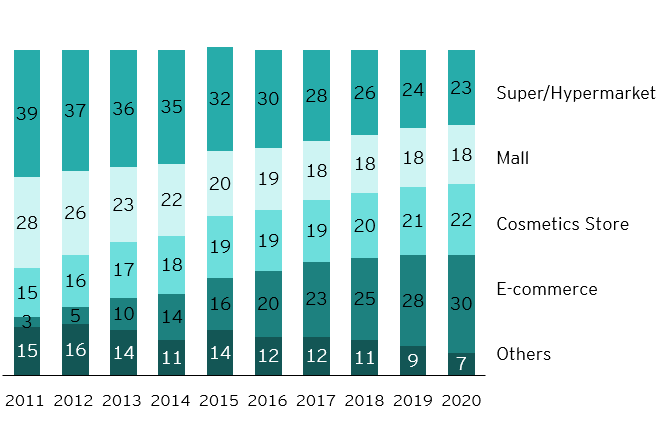 Distribution of beauty and personal care product sales in China, 2011-2019 (%)
To compete with the local brands, international brands have to offer something different from what domestic competitors provide in product quality or pricing strategy. Many international brands, for example, have rolled out localised product lines that cater for Chinese and Asian consumers' requirements. Major global brands are also constantly exploring innovative marketing channels and seeking deeper collaborations with KOLs.
Owing to stringent import and exports rules, order quantity limitations, production rhythm and other constraints, many international brands have long been aware of the importance of moving their factories in China. Compared with imports, local production has the advantages of quick turnarounds and lower storage and transportation costs. Another advantage is the flexibility to restock fast-selling products quickly.
EYP says international brands looking to set up local production can leverage specific tax incentives to minimise capital costs. For example, a software developer developing an online retail business in China may apply for a software enterprise qualification from the technology and information bureau and enjoy certain tax benefits, such as preferential corporate income tax (CIT) rates.
Across the country, local governments are also providing different forms of financial and tax incentives to encourage manufacturing investment.
The biggest capital investments for setting up a factory in China are the equipment and facilities. Especially for brand-name products, they require high-quality equipment and production lines for the products that meet customer demand without compromising safety or ethics.
Setting up a new factory requires the ability of its management to grasp the local environment. It is all about understanding the local laws, regulations and policies, and interactions with domestic partners, apart from capital, time, and efforts.
Given the complexity, international cosmetics brands looking to set up local production are advised to plan the steps carefully, from identifying the right location and finding qualified labour to finding suppliers for raw materials. For example, they may consider locating the plant near free trade zones, such as Hainan Free Trade Port.
EYP has professional service teams to assist cosmetics companies in establishing local manufacturing, processing and distribution bases. They can provide advice on strategic corporate development, branding and marketing, RTM and channel expansion strategy, pricing strategy, supply chain and production footprint planning, procurement and cost-saving, and so forth.
Setting up a factory in China is a strategic move for any cosmetics manufacturer. It will shorten the supply chain and reduce the cost of production and customer response time. (Source: scmp.com)