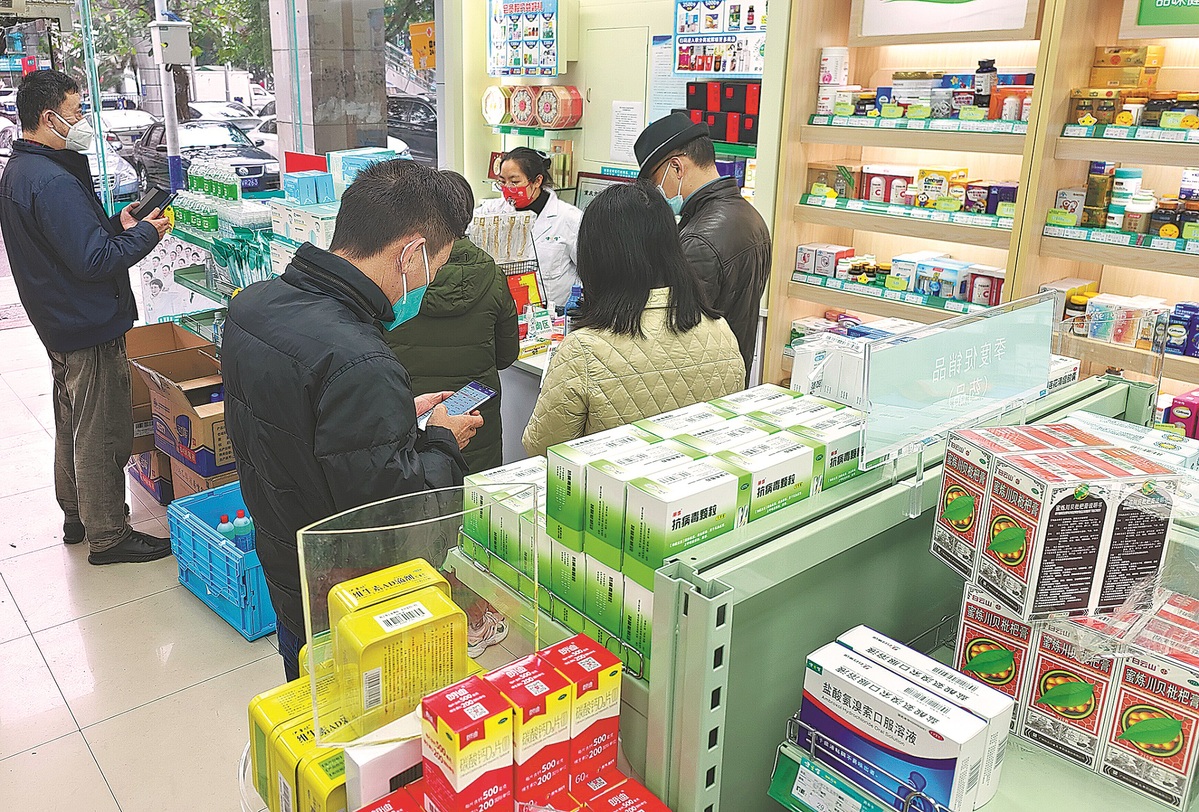 Fang Zheng, a 40-year-old programmer in Beijing, happily opened a package of vitamin C that he had received earlier this week.
This was the fourth package that he got this week. The other three contained ginger tea, protein powder and a pair of small dumbbells.
"I began purchasing these items after I recovered from COVID-19 two weeks ago. Apart from health supplements, I bought a pair of sleeping-aid pillows, and some home fitness items. I've spent around 3,000 yuan ($435.6), and I am still planning on buying some more," Fang said.
Chinese consumers are paying more attention to products that are said to be able to strengthen their immune systems, leading to a surge in related consumption.
Data from Guangzhou-based Nasdaq-listed online pharmacy 111 Inc showed that in December, sales volume and sales revenue of vitamin products grew 131 percent month-on-month and 123 percent month-on-month, respectively, while sales of calcium tablets and other health supplements also witnessed surges.
As a result, the company has been stepping up efforts to ensure supplies, said 111 Inc.
"Our bestsellers in the past two months are vitamin C and protein powder, which are sold at 129 yuan and 369 yuan per box, respectively. Two weeks ago, we were out of stock. We got a steady supply again just recently," said a shop assistant of a branch of Nepstar Chain Drugstore Ltd in Beijing.
Helena He, general manager of Wellness at Haleon China, said that the ongoing pandemic has made more Chinese consumers aware of the importance of enhancing their immunity. In the past month, sales of Haleon's health supplements had witnessed obvious surges.
"Both our domestic and overseas plants are at full production to guarantee supplies to Chinese consumers," she said.
Wu Dong, founder and CEO of Shanghai ADfontes Technology Co Ltd, a local manufacturer of dietary fibers, said that after China optimized its COVID containment measures, people's demand for products enhancing their immunity had reached a new high.
"Currently, China's dietary fiber raw material market totaled 4.5 billion yuan. It is expected that the market will reach 10 billion yuan in five years. The market contains huge growth potential," Wu said.
The company said that it has fully prepared its supply chain to meet the expected surging demand.
Xie Zongbo, an independent financial columnist and a member of the Caixin Global Young Leaders Forum, said: "People's recovery from the infection made them pay increasing attention to nutrition and rehabilitation, bringing huge growth in related consumption. Although the consumption surge may be just for a short time, it will boost the long-term development of related sectors in China."
Sales of home fitness equipment and sleeping-aid devices also witnessed growth on China's e-commerce platforms and offline stores.
Wang Fan, a 30-year-old office employee in Beijing, said: "After recovering from COVID, I bought a fitness-tracking wristband and a yoga mat. I now practice yoga regularly. I think that training every day helps to boost my immunity." (Source: chinadaily.com.cn)
Visit HPA-China's Information Hub, CLICK HERE