Probiotics China Summit 2022 is the fourth industry forum of China probiotics activities hosted by HPA-China.
Probiotics China Summit was established in 2019 with the support of the International Probiotics Association (IPA). In coordination with the summit, HPA-China and its partners have built an offline and online communication platform for probiotic-related companies to reach China ' s leading food, supplement, dairy and OEM manufacturers. Since 2019, the summit has been held three times with hundreds of probiotic industry leading companies in attendance. The total offline attendees was over 500, more than 80% of which were marketing, R&D, purchasing and decision makers from China ' s leading food, supplement and OEM manufacturing companies. The latest summit will be held in Shanghai. See details below:
Date & Time: November 9, 2022, 1:00pm – 5:00pm
Venue: Shanghai New International Expo Center (SNIEC), Room M11 , Hall E1 in conjunction with The 24th China Exhibition of Hi & Fi Asia-China 2022.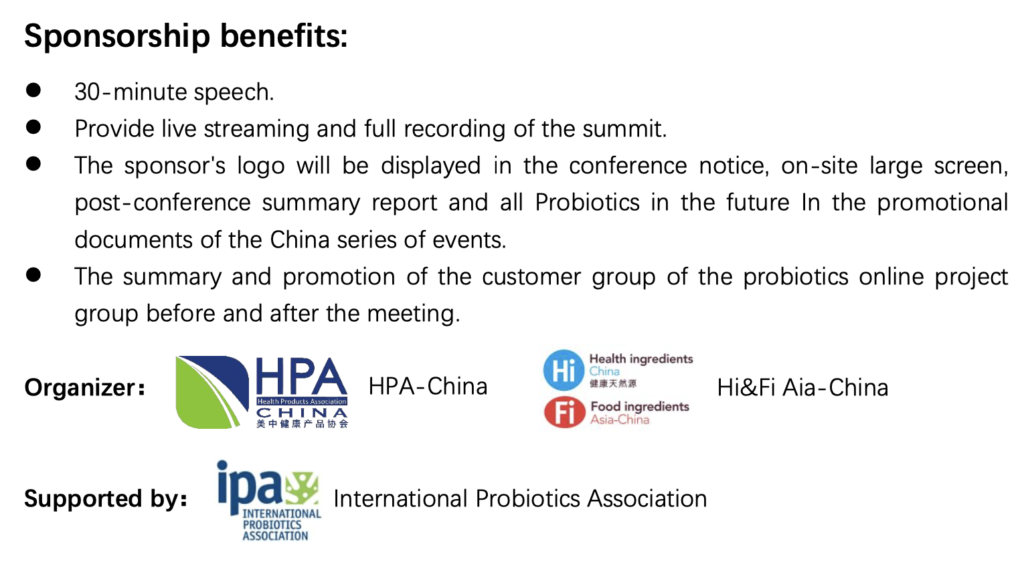 Sponsorship & Speaking Fee: $1,480 USD (The order of speeches is determined by the sponsorship order)
Venue capacity: 80-100 industry people.
Probiotics 2022 will be the fourth live in-person summit of the Probiotics events and is planned to be held within the Hi & Fi Asia-China / HNC Expo. The conference is planned to have at least 8 presentations from leading probiotic manufacturers, finished products match-making with potential online / offline retailers and distributors as well as an OEM zone.
The attendees of Probiotics Events are mainly marketing, R&D, procurement and management level people from probiotic manufacturers as well as leaders from the food, beverage and dairy industries. The Probiotics 2022 will plan for the scale of 80-100 participants offline and we can provide live streaming and full recording of the summit.
Previous Events: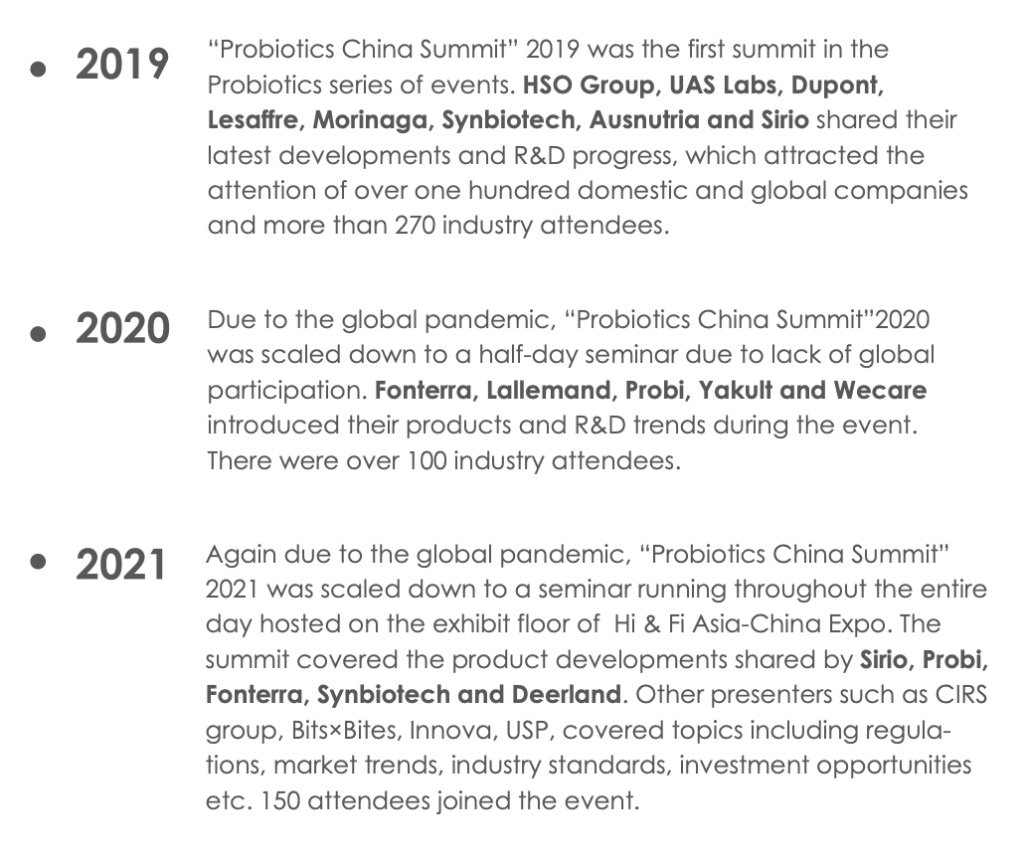 Source: HPA-China
Visit HPA-China's Information Hub, CLICK HERE