China has been heavily focused on improving inefficiencies, leading to intense competition on even the smallest things. This phenomenon, known as neijuan (内卷) in Chinese, has been further intensified with the introduction of AI in the industry. Here are some AI use cases in China's social media and e-commerce space.
NetEase uses AI for creating product photoshoots, packaging design, and more
NetEase, a 58 billion USD Chinese tech company, uses ChatGPT and Midjourney to reinvent its e-commerce design. The team is training the system to generate product backgrounds. Designers then edit products into these A.I.-generated backgrounds to avoid distortion of product information.
According to NetEase, creating a high-definition material with a 3D model would cost 800RMB to 1,200 RMB per picture. The same result would traditionally take 2 to 3 working days. Now with Midjourney, the material photos on the left took 2-3 hours to create.
The difference will be even more extreme when we look at model shoots with animals. Instead of spending thousands in creating the setting and animal models for pet food photo shoots, now both the cats and background could be generated via AI technology.
Chinese tech giants use AI to generate billboard ads
Fliggy, Alibaba-owned travel APP, created over 1,000 posters using AI technology. A.I. enabled the platforms to generate impressive and dreamy landscapes in line with their brand image.
These billboards delivered results beyond the offline world: the tech giants' breakthrough use of AI in advertising created a hot discussion topic on Weibo, attracting over 150 million views.
Meituan, a publicly listed lifestyle APP, also uses AI to generate ads for its food delivery service.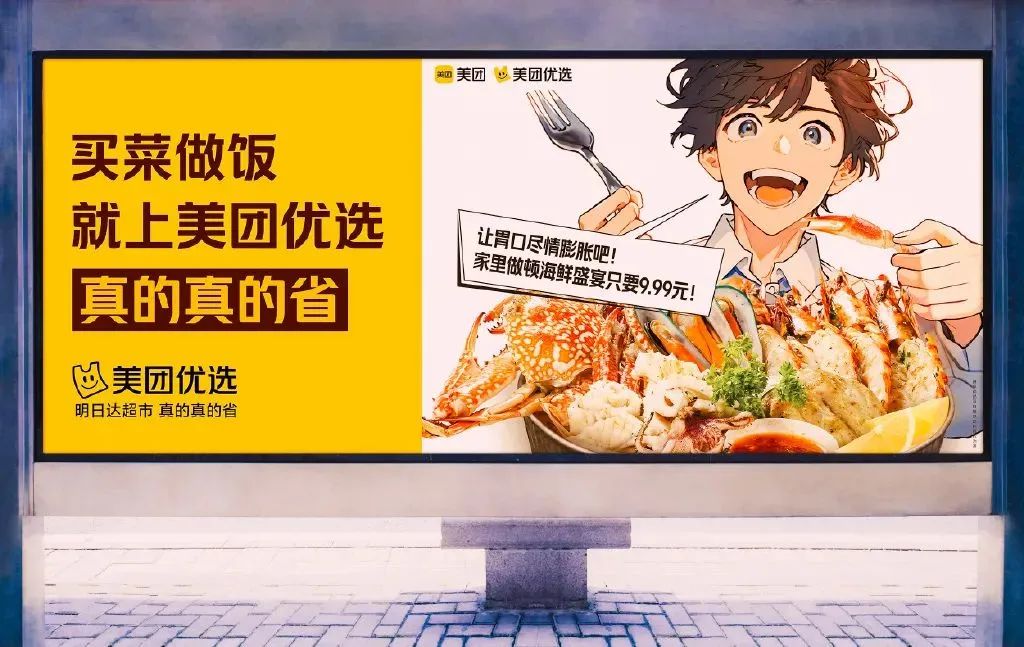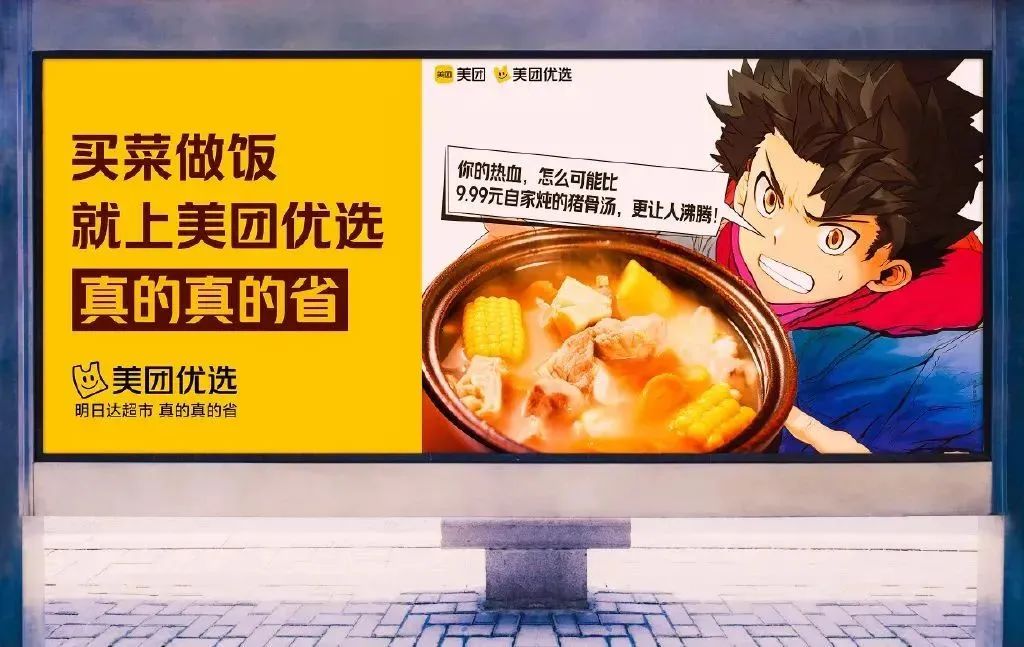 Storyboard for advertising campaigns
AI is disrupting before the production of assets: it starts during the pitching phase. MatChat, a Chinese advertising director, uses Midjourney to create storyboards for brand pitching. MatChat used to create PowerPoint presentations with numerous reference photos and text descriptions to illustrate her idea. Now she's just a few prompts away from sharing the creative images she's imagining.
Doris – an AI-powered social listening tool
A.I. also enabled brands to better understand their customers. We developed Doris, a social listening tool sharing real-time insights on how a brand or a product is perceived by consumers.
A.I. fundamentally changes the nature of social listening in multiple ways:
Analysis instead of just data: A.I. enables to verbalization of consumer insights in much more sophisticated ways than previous analysis tools. Where most previous tools would only provide keywords, A.I. can give a detailed explanation of the meaning behind the data
Interpretation of trends: if previous social listening tools enabled to identify peaks of traffic, engagement, or positive/negative sentiment, Doris and such A.I. tools can explain the reason behind the trend. Why did negative sentiment suddenly explode? Is it an issue with a batch of products? Or a failed PR campaign? A.I. can answer this question with nuance.
For instance, here's an example of the feedback given by Doris about Armani's lipsticks:
"Several comments mention that the actual color of Armani lipstick does not match the color shown on the packaging or online, with some users expressing disappointment with the color and finding it too pale. Eight comments mention that Armani 214 is not suitable for people with dark skin or lips, and that the swatches in the article do not accurately represent the color. Twelve comments express regret for blindly purchasing Armani 214 and finding it unsuitable for their skin tone or lip color. Two comments express disappointment with the color of the Armani Power Fabric Lipstick, which appears too orange or not as expected."

Sample of analysis from Doris A.I. about Armani lipsticks
This take is directly generated via A.I. The remarkable thing is that A.I. is able to do the work of a junior consultant, delivering insights and interpretations instead of dry numbers.
AI can also find the top influencers associated with your brand and similar influencers for additional collaboration or seeding. By using semantic analysis on the influencers' posts and analyzing the pictures from different successful campaigns, Doris can directly point you toward your next collab.
AI influencers collaborating with brands
AI-powered influencers are a popular option for brand collaboration. They are just like human influencers. Each has its own personal values and style. Small bonus: they will never get into scandals and risk hurting your brand's image.
The top AI influencer is Liuyexi, she is a beauty & cosmetics influencer. Most of her videos are short animation films where she uses her superpowers to fight against evil, spreading joy and kindness around her. Chinese audience resonates with Liu also because her video has a unique mix of cyberpunk and Chinese traditional style. CREATE ONE, the team behind Liu, claimed to invest 500 million RMB into Liu's creation. After 2 years of operating this virtual IP, they have collaborated with some of the largest Chinese brands, including Chinese automotive brand Xiaopeng and top FMCG brand Master Kong.
AI characters are now becoming popular in the live-streaming world. Instead of a person hosting for 15 hours a day, an AI character can work all day and night, selling products on platforms like Taobao and Douyin.
The cost of using a digital live-streaming host ranges from 5,000 to 90,000 RMB per year, but it's getting cheaper as the technology develops.
More companies are registering as live-streaming hosts, and this trend is expected to grow rapidly in 2023.
AI-designed green dress generating over 300k RMB in sales
An AI-generated dress, referred to as AI Little Green Dress, went viral on Little Red Book. The keyword quickly reached 33k engagements and 1.3k likes from people interested in buying the dress.
Sensing the business opportunity, several stores immediately began producing the wanted Little Green Dress. The first store launched a 10-day pre-sale link only within 2 weeks of the original post. With this first-mover advantage, the store generated over 216K RMB in revenue by selling over 900 dresses. Another store created a similar product and sold over 200 dresses making over 60k RMB in revenue.
Many customers bought the dress and created their own AI-generated picture to repost on social media, creating an additional wave of content that further pushed the sales of the dress.
The success of this seemingly ordinary AI-designed green dress getting popular, creating 300k RMB revenue, may seem too random for brands to use as a marketing case study. But the impact of AI technology in fashion and packaging design is only starting to take shape.
You can already find costume design and product packaging design services on Taobao using Midjourney, Stable Diffusion, and other AI technologies. Most of the services are priced below 50 RMB to start with. Some are even just selling the prompts to create a certain style of costume design.
Other services, such as rice packaging design, product shooting, and illustration design (with free trial) are all available on Taobao. 33 people bought the rice packaging design service so far.
This is only a glance at the near future: integrating AI and China's world-class supply chain systems represents a paradigm shift in manufacturing, ushering in an era of unparalleled efficiency and quality.
Opening a Taobao store with the help of AI
A 36Kr news reporter created a Taobao store using ChatGPT and Midjourney. He then wrote a story about his journey of using AI tools to create the Taobao store. The post got over 1 million views on Little Red Book.
The reporter even tried to push the design into production, although the difficulty is the factory requires a minimum order of 500, and the gradient-style print is expensive to produce. Some user were concerned that the AI-produced design would be technically hard to reproduce in real life.
The store got its first order shortly after it went live, then the owner took all the products down. Now it's just an empty store with 2.5k enthusiastic Taobao followers.
How to use A.I. completely wrong: ice cream brand launches a new product line using AI technology:
Chicecream (钟薛高), a well-known Chinese ice cream brand, launched a new low-cost product line Sa'Saa. AI technology is involved in every aspect of creating this new product: naming, flavor development, packing, and poster design.
Chicecream is a premium ice cream brand with an average product price above 15RMB. The brand even got its nickname "ice cream assassin" due to its high price. The Sa'Saa line is priced at 3.5RMB, the first time taping into the low-price market.
During the same time, Chicecream launched DanSheng, an egg-shaped ice cream line with 3 flavors. Below is the Little Red Book's reaction to the 2 new products. Chicecream sponsored 39 Little Red Book KOL collaborations while only sponsoring 15 for DanSheng. This shows the company spends at least twice the budget on promoting SaSaa. Even though Sa'Saa got 11 times more engagements, most comments are around the surprisingly low price instead of the fact that it was created by AI.
Here's a quintessential example of a tech-savvy brand hopping on the AI bandwagon just for kicks. The flavors they've launched are far from revolutionary, just your regular red bean, green bean, milk, and chocolate. The packaging design is also mediocre. I wouldn't be surprised if the designer took the packaging directly from a stock photo library. The company seems to catwalk into the chic AI realm while making a product that looks like a joke.
Conclusion
Chinese companies are rapidly leveraging AI technology to optimize efficiency. Imagine AI-powered design factories, and personalized marketing campaigns, combined with low-cost labor. It's only a matter of time before the social commerce industry undergoes a transformative revolution. Think twice if you are still underestimating the scope and speed of these changes. It is only a matter of time before forward-thinking brands begin to capitalize on this and gain an edge. (Source: WalkTheChat.com)
Visit HPA-China's Information Hub, CLICK HERE